What is "fake news" or "false news?"
The True History of Fake News (The New York Review of Books)
List of Fake News Websites (Wikipedia)
"A Hundred Years" by C.P. Scott (1921, The Guardian), featuring the famous sentence: "Comment is Free, but Facts are Sacred."
News Use Across Social Media Platforms 2016 (Pew Research Center: Journalism & Media)
Breaking News Consumer's Handbook: Fake News Edition (WNYC) - 9 minute radio broadcast, transcript, and graphic)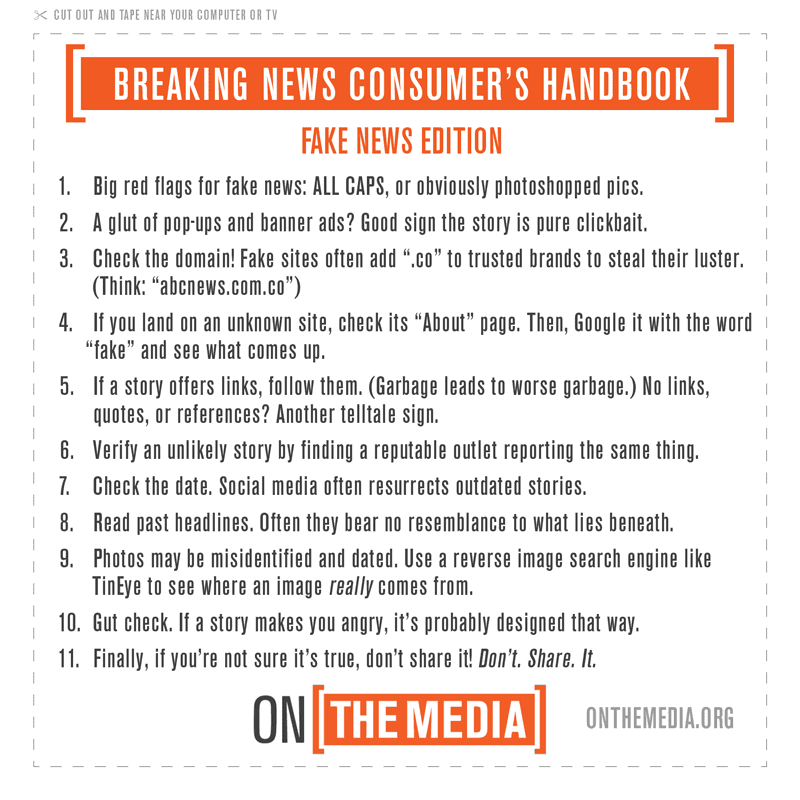 Graphic is from WNYC article cited above.
The following tips were taken from a document created by Purchase College Library:
1. Don't Repost without Research - Always fact-check before you share!
2. Don't take the bait! - Resist the urge to click on inflammatory headlines.
3. Flag the Fakers - Facebook, Twitter, and browser apps (see box at left) let you report fake and suspicious posts.
4. Boost the signal - share and repost REAL news stories from trustworthy sources, especially reporters that counter and debunk fake stories.
5. Support Real News - Subscribe and donate to reputable news organizations. Quality journalism isn't free, but it's worth the time and money! **Your library subscribes to reliable news outlets and databases for you. Try using Newsbank for world and local news, current events, hot topics, and more. If you are off-campus, use this link.
Additional Resources on Fake News